Creepie in the Dweswolds place



Address

8 Locus Lane

phone#

005-5234
it is
Creepies
home.
apperance
Edit
To outsiders it looks like a giant haunted house.
Inside, there's a laboratory, that's fit for a mad scientist, it belongs to Vinnie.
Creepie has lived there ever since she was a baby.
In Frogenstein, it turns out that Vinnie has a laboratory, where according to Creepie, he "likes to tinker".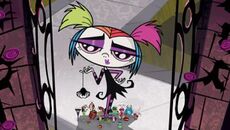 Click here to view the gallery.
The Dweezwold Mansion's phone number is 555-0150. Also, for "maggots" press 1, for larvae press 2, and for other non-insect related calls press 3.